MESSAGE FROM THE HONOURABLE COMMISSIONER, PUBLIC COMPLAINTS COMMISSION, ADAMAWA STATE OFFICE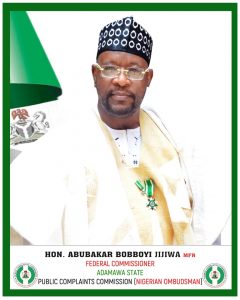 Greetings from the Land of Beauty. I feel elated to deliver my message from Adamawa State where I have been holding office as the Honourable Commissioner since 2012. Four years ago, Public Complaints Commission had no Chief Commissioner and Commissioners for 18 years due to constitutional hitches to those appointments. Fortunately, all constraints have been removed through the National Assembly as the Act establishing the Public Complaints Commission was streamlined and today the role of the Commission as an Ombudsman is being played efficiently and effectively.
The take-off of Public Complaints Commission and its relocation from the Presidency into the ambit of the National Assembly under a democratic dispensation has redefined our role as an Ombudsman with additional tasks as protector of the masses, emancipator of the downtrodden, the little man's friend, the civil servants' guardian, etc.
The public should as a matter of interest know that the Public Complaints Commission is mandated through an act of the National Assembly to investigate and conduct researches in government ministries and agencies; and private companies, and the officials of those bodies. To this effect, the Commissioner has the right to have access to all information and to go public with the reports.
I wish to express my heartfelt appreciation to the Chief Commissioner of Public Complaints Commission, my Commissioner colleagues and my staff in Adamawa State for the moral and financial support.
Finally, I call on the Government and the people of Adamawa State to avail themselves of the opportunity to report their grievances to the Public Complaints Commission and be assured of getting redress.
---
ADAMAWASTATE NEWS & PUBLICATION 
PUBLIC COMPLAINTS COMMISSION
(The Nigerian Ombudsman),
Adamawa State Office,
P.M.B. 2105,
By Sir Kashim Ibrahim Way,
Behind Adamawa State Pension Board,
Yola, Adamawa State.
Email: adamawa@pcc.gov.ng
Telephone: 09154494424, 07041304819
PUBLIC COMPLAINTS COMMISSION
Youth Plaza
Opposite Mayo Belwa Police Division,
By Old Market, Mayo Belwa Town
Mayo Belwa Local Government Secretariat
Telephone: 0703 558 7683 (Yusuf Bello)
PUBLIC COMPLAINTS COMMISSION
Ganye Local Government Secretariat,
Ganye.
Telephone: 0806 913 5096 (Isma'il Garbel)
PUBLIC COMPLAINTS COMMISSION
Gombi Local Government Secretariat,
Gombi.
Telephone: 0816 89 1100 (Yunusa Musa)
PUBLIC COMPLAINTS COMMISSION
Numan Local Government Secretariat,
Numan.
Telephone: 0807 308 1494 (Helepila Penuel)
PUBLIC COMPLAINTS COMMISSION
Opposite Adamawa State University
Mubi North Local Government
Telephone: (Mohammed Ahmed)