AKWA-IBOM STATE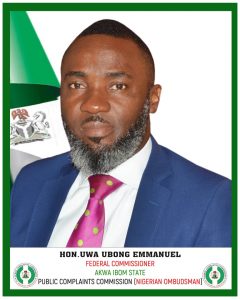 Welcome to The Public Complaints Commission, Akwa Ibom State. The PCC Akwa Ibom was commissioned to check administrative excesses (non-adherence to procedures, policies or violation of Law) in Akwa Ibom State. We are constitutionally empowered to handle complaints lodged by aggrieved citizens or residents in Nigeria, and Akwa Ibom in particular.
We have the responsibility of ensuring that no citizen or persons resident in Nigeria suffers any form of Administrative injustice, or poor service delivery either by the public or private sector, and that in the event of an occurrence appropriate restoration or remedy is made.
We are the face of the faceless and the voice of the voiceless in society. We encourage you to send any information that borders on maladministration, actions or inactions antithetical to good Governance or that occasions hardship or compromises the welfare of citizens and residents. With your cooperation good Governance will not be a rhetorical cliche but a reality in our country. Finally, we carry out proactive investigation in our public and private institutions in other to flush out systemic injustice that maybe embedded in all facets of their operation, policies, procedures, practices and laws. Don't suffer in silence – send your complaint today and help enthrone good Governance.
Address: Public Complaints Commission Federal Secretariat Complex,
P.M.B 1107,
Uyo, Akwa-Ibom State, Nigeria.
Email: akwaibom@pcc.gov.ng, complaintscomissionuyo@yahoo.com, pccakwaibom@yahoo.com info@pccakwaibom.org.ng
Phone: 07056892147,07067908312
08091994551, 08122789287
Ikot Ekpene Area Office
Old Council Secretariat,
Ikot Ekpene L.G.A.
Ukanafun Area Office
Local Government Secretariat,
Ukanafun L.G.A.
Etinan Area Office
Etinan Local Government Secretariat, Etinan L.G.A.
Eket Area Office
Local Government Secretariat, Eket L.G.A.