ENUGU STATE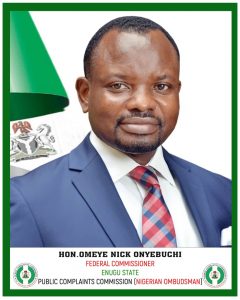 We welcome you to The Public Complaints Commission, Enugu State, the COALCITY state. Public Complaints Commission was established to check and correct administrative excesses which occur very often in the everyday activities of the average Nigerian. The Public Complaints Commission is constitutionally empowered to handle complaints lodged by aggrieved citizens or residents in Nigeria, and Enugu State in particular. We are also empowered to identify such lapses on our own and investigate same without waiting for it to come as a complaint. Thus we are empowered to monitor the activities of any department or ministry of the Federal State or Local Government in Nigeria, any statutory corporation or public institution set up by any government in Nigeria; any company incorporated under the or pursuant to the companies and allied Matters Act whether owned by any government or private individuals in Nigeria or otherwise; or any officer or servant of any of the a fore mentioned bodies.
The Public Complaints Commission has the responsibility of ensuring that no citizen or persons resident in Nigeria suffers any form of Administrative injustice, or poor service delivery either by the public or private sector, and that in the event of an occurrence appropriate restoration or remedy is made.
STATE OFFICE
Public Complaints Commission
Federal Secretariat Building
Independence Layout
P.M.B 143
Enugu
enugu@pcc.gov.ng
+234 805 3886 456,
+234 806 3287 097.
Nkanu West L.G.A Secretariat (Agbani)
Udi L.G.A Secretariat (Udi)
Awgu L.G.A Secretariat (Awgu)
Nsukka L.G.A Secretariat (Nsukka)