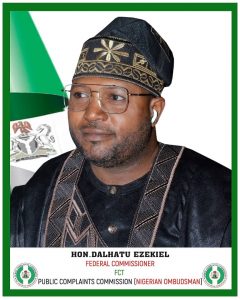 Federal Capital Territory, Abuja
The major purpose of establishing Public Complaints Commission was informed by the need to correct the terrible human rights abuses prevalent among political/corporate entities at the time where laws are like cobwebs where the small files are caught but the big ones break-through. In other words, it was geared towards ensuring good governance, administrative justice and respect for human rights. The services of the Commission are rendered absolutely free of charge to all citizens or any person residing in Nigeria.
State Office
Public Compliants Commission ,
Plot 4288 Amac New Secretariat Extension
Wing B, Apo Resettlement
Garki, Abuja.
Email: fct@pcc.gov.ng
09154494437, 09064855437
Abaji Area Office
Inside ICT Office
Abaji Area Council Secretariat
Abaji, FCT.
Bwari Area Office
Inside Bwari Area Council Secretariat
Bwari, FCT.
Gwagwalada Area Office
Inside Gwagwalada Area Council Secretariat
Gwagwalada, FCT.
Kuje Area Office
Inside Kuje Area Council Secretariat,
Kuje, FCT.
Kwali Area Office
Inside Kwali Town Hall
Kwali, FCT.
Karshi Area Office
Inside Karshi Secretariat
Karshi, Abuja.