COMMISSIONER'S MESSAGE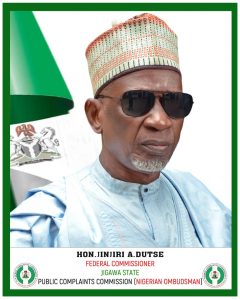 Public Complaints Commission is nonprofit organization, it always intended to be champion of the public good through investigation and resolution of public complaints against Federal, State, Local Governments, Private sector organizations, their Officials and to protect individuals or organizations against administrative injustices, financial loss, personal hardship and right violation.
We always ready to listen and attend to your complaints.
STATE OFFICE
Rooms C-105 – 109 Ground Floor,
Federal Secretariat Complex,
Sani Abacha Way, Dutse,
Jigawa State.
Email: Jigawa@pcc.gov.ng
Tel: 09154494440, 09065415628
Public Complaints Commission,
Area Office Birnin Kudu,
Open Air Theatre,
Near Police Station,
B/Kudu L.G.A.,
Telephone No: 08060327887
Public Complaints Commission,
Area Office Kazaure,
Daura Road,
Local Government Secretariat,
Kazaure L.G.A.,
Telephone No. 08081909199
Public Complaints Commission,
Area Office Hadejia,
Near Emir's Palace Hadejia,
Hadejia L.G.A.,
Telephone No. 08063385159
Public Complaints Commission,
Area Office Ringim,
Hadejia Road,
Old Stowa office Ringim,
Ringim L.G.A.,
Telephone No. – 08058371898
Public Complaints Commission,
Area Office Gumel,
Maigatari Road,
Near Old L.G Secretariat, Gumel,
Gumel L.G.A.,
Telephone No. 08038902274
Public Complaints Commission
Area Office Jahun,
Ali Yahai House.
By Police station,
Kafin Hausa Road
Jahun L. G. A.
Telephone No. 08063385159
Public Complaints Commission,
Area Office Kafin Hausa,
Market Street,
Behind Microfinance bank,
Kafin Hausa L.G.A.,
Telephone No. 08063385159