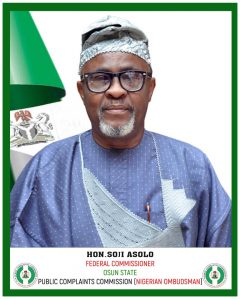 The Public Complaints Commission, Osun State was established in 1992. The major purpose of establishing Public Complaints Commission was informed by the need to correct the terrible human rights abuses prevalent among political/corporate entities at the time where laws are like cobwebs where the small files are caught but the big ones break-through. In other words, it was geared towards ensuring good governance, administrative justice and respect for human rights. The services of the Commission are rendered absolutely free of charge to all citizens or any person residing in Nigeria. We air a half-hour radio show every Thursday on the Federal Radio Corporation of Nigeria (FRCN) Network between 8:30am – 9:00a.m.
State Office
Public Complaints Crescent, SUBEB Area,
Gbongan/Ibadan Road,
P. M. B. 4456,
Osogbo,
Osun State.
Email: osun@pcc.gov.ng
Phone: 09154494452, 08147839441
Ilesa Area office
Beside Ogedengbe Commercial High School, Ilaje,
Ilesa
Tel: 08165522770
Ile-Ife Area Office
House 33, Opposite Apata II Junction,
Ondo Road Ile-Ife
Tel: 08033783061, 08066201750
Ejigbo Area office
Ejigbo Local Government Secretariat Annex,
Former Town Planning Office
Ejigbo
07035079487
Ikirun Area Office
D. Ikirun Town Hall,
Ikirun, Osun State
Tel: 08180053367
Ila-Orangun Area office
Heritage Library, Market Square
Ila-Orangun
Tel:  08063634882
Ifon-Osun Area Office
C-38, Orisatoyinbo Shopping Complex,
Ifon-Osun
08069365461
Iwo Area Office
C.Iwo Local Government Secretariat,
Legislative Building, Iwo, Osun State.
Tel: 07034633854, 08038024041
Gbongan Area Office
H. Ayedaade Local Government Secretariat,
Legislative Building, Gbongan, Osun State
Tel: 07034633854
Ilobu Area Office
I. Former Local Government Library,
St Paul Grammar School, Gbobamu/Ire-Akari,
Pako Area, Ilobu, Osun State.