Hon. Commissioner Message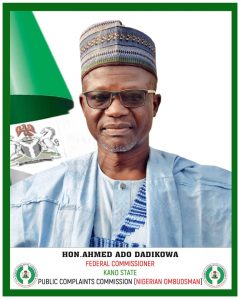 As the new Federal Commissioner, Public Complaints Commission Kano State, I hope to express my total and unflinching commitment to the Mission and Vision statements of the commission. This noble objective will be actualized through rigorous enlightenment and public awareness campaign on the Mandate/Mission of the Public Complaints Commission of addressing all Administrative injustices. Through this, we shall successfully sharpen the moral outlook of the Organizations, Ministries, Government Agencies and General Public to become responsive to the yearning and aspirations of their workers.
I also wish to improve Human and Capital Development of the organization to have sound knowledge of their responsibilities to their work through intensive trainings.
Due to the size of the state, I intend to reorganize the state office in order to achieve optimum performance. Presently, the state has six (6) Zonal Area Offices which is grossly inadequate to bring justice to the door step of the common man.
Hon. Ahmed Ado Dadinkowa (FCIA) (Commissioner)
State Office
1st Floor, Federal Secretariat Complex,
Katsina Road,
P.M.B. 3161,
Kano State.
Email: kano@pcc.gov.ng
Phone: 09154494442,09069618086