HONOURABLE COMMISSIONER'S MESSAGE ABOUT PUBLIC COMPLAINTS COMMISSION NIGER STATE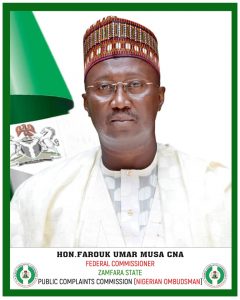 As a Media practitioner who has worked across and far the country for decades, it is my pleasure to identify with the Nigerian OMBUDSMAN, the last hope of the common man. It is also a privilege to serve in redressing Administrative Injustice through the enthronement of the rule of law.
On assumption of office, I paid homage to The Emir of Minna, Alhaji Umar Faruk Bahago (CON), visited the media houses in the State, the Nigerian Television Authority NTA, Niger State Television, Crystal FM 91.2, Prestige FM 91.7 Radio, Security Agencies including the Nigeria Prison Service considering the complaints of human injustice by inmates. However, efforts have been made to continue other important visit after all the elections in the State.
The Publicity Unit of the Commission has come up with modalities to create awareness of the activities of the Commission which it has started with the printing of pamphlets containing information about the Commission and office address of Commission including Area offices. The State office has followed in the modern trend on social media, having a Facebook page known as the OMBUDSMAN, Facebook account known as the OMBUDSMAN Niger, Twitter handle @Niger Ombudsman, WhatsApp group chat Niger OMBUDSMAN. We have also gone into collaboration with the Crusader, a human rights and social justice programme on Prestige FM 91.7.
The numbers of complaints received and resolved have increased tremendously since I assumed duty, so far 82 complaints were received and 78 have been resolved as at 31st December, 2018 with the remaining receiving prompt attention. In view of the circular on Standard Operating Procedure for the PCC. The Commissioner and the Management team are working tirelessly to formalize all necessary paperwork on the Commission's allocated land for the construction of the Commission's permanent office accommodation. At the Exclusive three arm zone in Minna.
Address of The State Office
Public Complaints Commission,
Federal Secretariat Complex,
Augustus Aikhomo Road Minna,
2nd floor, right wing, P.M.B 98
Email: niger@pcc.gov.ng
Tel:  09154494449,08143931604
Suleja Area Office
Public Complaints Commission,
Government Secondary School,
1st Gate after Kantoma Bridge, Suleja.
Phone number: 08036784573
Bida Area Office
Public Complaints Commission,
℅ Social Welfare Office,
Dokodza Road Bida
Phone number: 08036930816
Borgu Area Office
Public Complaints Commission,
℅ Borgu Local Government Area Secretariat,
New – Bussa
Phone number: 07034664524
Lapai/Agaie Area Office
Public Complaints Commission,
℅ Agaie Local Government Area Secretariat,
Agaie.
Phone number: 08038689960
Katcha Area Office
Public Complaints Commission,
℅ Katcha Local Government Area Secretariat,
Katcha.
Phone number: 08032452609