MESSAGE FROM THE HONOURABLE COMMISSIONER.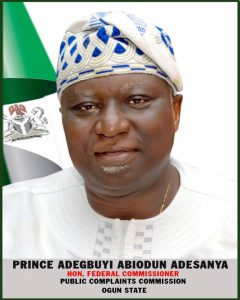 Greetings. As a Quasi Judicial body, Public Complaints Commission, is charged with the responsibility of initiating and receiving complaints from members of the public on maladministration and social injustice in the society. For us in Ogun State, we have lived up to the billing by providing the platform for aggrieved citizens and foreigners resident in the state to air their grievances and obtain redress at no cost. Between May 2018 and January 2019, we have handled a total of One Thousand One Hundred and Twenty Nine (1,129) complaints out of which Four Hundred and Forty Eight (448) had been resolved.
We shall continue to engage all relevant stakeholders in the pursuit of the Commission's vision and mission of protecting individuals/organisations against administrative injustice and promoting an effective and efficient public service that is responsible and responsive to the needs of the citizenry. So far in Ogun State, we have been enjoying the cooperation of MDAs which can be seen in their prompt response to enquiries and giving redress to aggrieved individuals in the state.
However, as an Ombudsman, we need better funding to enhance our operational efficiency. Meanwhile, I give kudos to the Honourable Chief Commissioner, Hon. Ayo-Yusuf Abimbola for his exemplary leadership in projecting the PCC regionally and internationally. In this regard, I wish to congratulate him on his election as a member of the Executive Council and the Regional Coordinator for West Africa of the African Ombudsman and Mediators Association (AOMA).
STATE OFFICE
PUBLIC COMPLAINTS COMMISSION,
Federal Secretary Complex,
Ibrahim Babangida Boulevard,
Oke-Mosan, P. M. B. 2223,
Sapon, Abeokuta.
EMAIL: ogun@pcc.gov.ng
PHONE: 09154494450, 08144619577
OTA AREA OFFICE
PUBLIC COMPLAINTS COMMISSION,
Opposite Ado-Odo Local Government Secretariat,
Sango Ota, Ogun State.
TELEPHONE: 07067499799
ILARO AREA OFFICE
PUBLIC COMPLAINTS COMMISSION,
Ilaro Local Government Secretariat,
P. O. Box 315, ILARO, Ogun State.
TELEPHONE: 08067222820
IJEBU-ODE AREA OFFICE
PUBLIC COMPLAINTS COMMISSION,
Salamotu Kuku Library Complex,
Ijebu- Ode Local Government Secretariat,
Itoro, Ijebu-Ode, Ogun State.
TELEPHONE: 08033031301
SAGAMU AREA OFFICE
PUBLIC COMPLAINTS COMMISSION,
Sagamu Local Government Annex,
Opposite NEPA Office Makun,
Sagamu, Ogun State.
TELEPHONE: 07038672280
IJEBU-IGBO AREA OFFICE
PUBLIC COMPLAINTS COMMISSION,
Ijebu- North Local Government Secretariat,
Ijebu- Igbo, Ogun State.
TELEPHONE: 08083169923