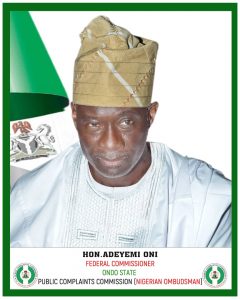 Welcome to The Public Complaints Commission, Ondo State. The PCC Ondo was commissioned to check administrative excesses (non-adherence to procedures, policies or violation of Law) in Ondo State. We are constitutionally empowered to handle complaints lodged by aggrieved citizens or residents in Nigeria, and Ondo in particular.
We have the responsibility of ensuring that no citizen or persons resident in Nigeria suffers any form of Administrative injustice, or poor service delivery either by the public or private sector, and that in the event of an occurrence appropriate restoration or remedy is made.
State Office
Old Secretariat, Oke-Eda,
P.M.B. 778,
Akure, Ondo State, Nigeria.
Email: ondo@pcc.gov.ng
Phone: 09154494451, 08147928932
Ore Area Office
Fire Brigade Compound,
Ore
Ifon Area Office
Ikaro Road,
Ifon
Okitipupa Area Office
NRC Building, Igbokoda Road,
Okitipupa
Ikare Area Office
High Court Compound, Ikare-Akoko
Owo Area Office
Oke Mapo, Owo
Irele Area Office
Local Government Secretariat,
Sabome Road, Ode-Irele
Ondo Area Office
Better Life Building, Along Oba Adesanoye Civic Centre,
Ondo
Oka Area Office
Beside Federal Fire Services, Abuja Expressway,
Oka-Akoko