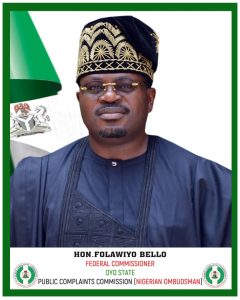 HON.  (ASIWAJU) FOLAWIYO BELLO 
is an Administrator of commendable pedigree, a human rights activist and equally a Peacemaker Ambassador who is widely known to be a bridge builder. He has a thriving Project Management and Construction Consultancy Company that has successfully delivered legacy projects through the length and breadth of Nigeria.
His life- long aspiration is to be part of a progressive society and contribute his quota to its growing success through diligence and hard work
He also wants to contribute to the growth of the Public Complaints Commission by doing all that is expected to be done to take the commission to a higher and better level of development while being a positive influence on officers of the Commission in their pursuit of investigating all forms of administrative injustice, corruption, abuse of office etc and ensuring that justice is obtained for aggrieved citizens and residents of Nigeria.
STATE OFFICE ADDRESS
Public Complaints Commission,
Agodi GRA,
Ibadan, Oyo State.
Email: oyo@pcc.gov.ng
Tel: 09154494453, 08148730457
OGBOMOSHO AREA OFFICE
Oja Igbo, Ogbomosho
Tel: 08060277846, 08038021180, 08034990576
SAKI AREA OFFICE
Public Complaints Commission,
Along Ogbooro Road,
Balako Hotel,
Saki.
Tel: 07033602357
OYO AREA OFFICE
OYSIEC Building (Red Brick Building)
Police Area Command,
Durbar, Oyo
IBADAN NORTHWEST AREA OFFICE
Ibadan Northwest Local Government Secretariat,
Onireke, Ibadan.
Tel: 08064164210