The Hon. Chief Commissioner, Public Complaints Commission (PCC), Hon. Abimbola Ayo-Yusuf has called for the Cooperation of the National Pension Commission (PENCOM) in the training and re-training of Staff of the Commission to keep them knowledgeable about the scheme.
The Hon. Chief Commissioner said this on Friday when he paid a courtesy visit to the Director General, National Pension Commission (PENCOM), Mrs. Aisha Dahir-Umar in her Office in Abuja.
The Chief stated that "the Cooperation is not a matter of choice but it is necessary in the current growing need for effective service delivery in our society".
Hon Abimbola Ayo-Yusuf commended PENCOM for its tireless efforts in repositioning the Pension Sector and making it more vibrant.
In her response, the Director General of PENCOM, Mrs. Aisha Dahir- Umar who was ably represented by the Commissioner of Administration, Dr. Umar Farouk Aminu, said that PENCOM is the Regulatory body of all Pension Matters in the Country , hence cooperation with PCC is apt as it will go a long way in making the work of both Commissions more efficient.
Dr. Umar Farouk further said that "PENCOM has received lots of complaints from the PCC and it is trying its possible best to resolve them".
On the Training of Staff, Dr. Aliyu said PENCOM can only work on acceptable Programmes especially trainings that border on Delay in the payment of Pension and Accrued benefits. He further stated that a checklist will be developed on Pension Matters and communicated to the Commission.
The Director General's Representative thanked the Hon. Chief Commissioner for the visit promising to work with him in order to achieve the desired goals.
The Honourable Chief Commissioner was accompanied on the visit by the Federal Commissioner of Oyo Sate, Hon. Folawiyo Bello and the Headquarters Management team.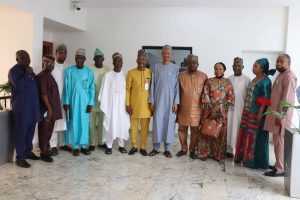 ERIC EMEGHARA