MESSAGE FROM HON. COMMISSIONER ABOUT PCC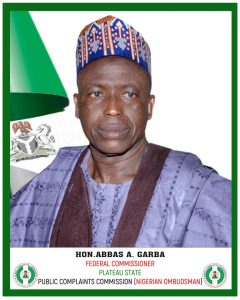 The Public Complaints Commission (the Nigerian version of the Ombudsman) was created to look at issues of maladministration in the Public Service as recommended by the Chief Jerome Udoji panel in 1974.
The Commission, whose services are free of charge, has been looking into and resolving different complaints against Public and Private Organizations or its officials since inception in 1975.  The Plateau State office of the Commission is not left out of this onerous task of addressing issues of maladministration and social injustices.  The Commission resolved a total of 293 cases within the period of January to December, 2018.
In its quest to address the issue of recalcitrant respondents, the Commission has been embarking on courtesy/familiarization visits to both Federal and state establishments, private organizations and traditional institutions with the aim of publicizing and establishing mutual understanding of its operations/functions.
The Commission remains as an unbiased arbiter in the resolution of all complaints before it and it has equally received letters of appreciation from complainants.
STATE OFFICE
First Floor, right wing,
Federal Secretariat Complex,
P.M.B. 2193, Jos
EMAIL: plateau@pcc.gov.ng
PHONE: 09154494454, 08148800635
Bassa Area Office
Local Government Council Secretariat
Jebu-Bassa
PHONE: 08032862465
Mangu Area Office
Local Government Council Secretariat
Mangu
PHONE: 07062603309
Pankshi Area Office
J.D. Gomwalk House,
G.R.A. Road,
Pankshin
PHONE: 08032441474
Wase Area Office
Local Government Council Secretariat
Tahat, Wase
PHONE: 07060966768
Langtang Area Office
Local Government Council Secretariat
Langtang
PHONE: 08036880249
Shendam Area Office
Local Government Council Secretariat
Shendam
PHONE: 07031220128